I will be writing my book posts in this shorter 10 point format from here on. I will keep the 10th point as a place where I can more info as and when needed. As always feedback is welcome.
1. Name: Jungle of Stone : The True Story of Two Men, Their Extraordinary Journey, and The Discovery of the Lost Civilization of the Maya.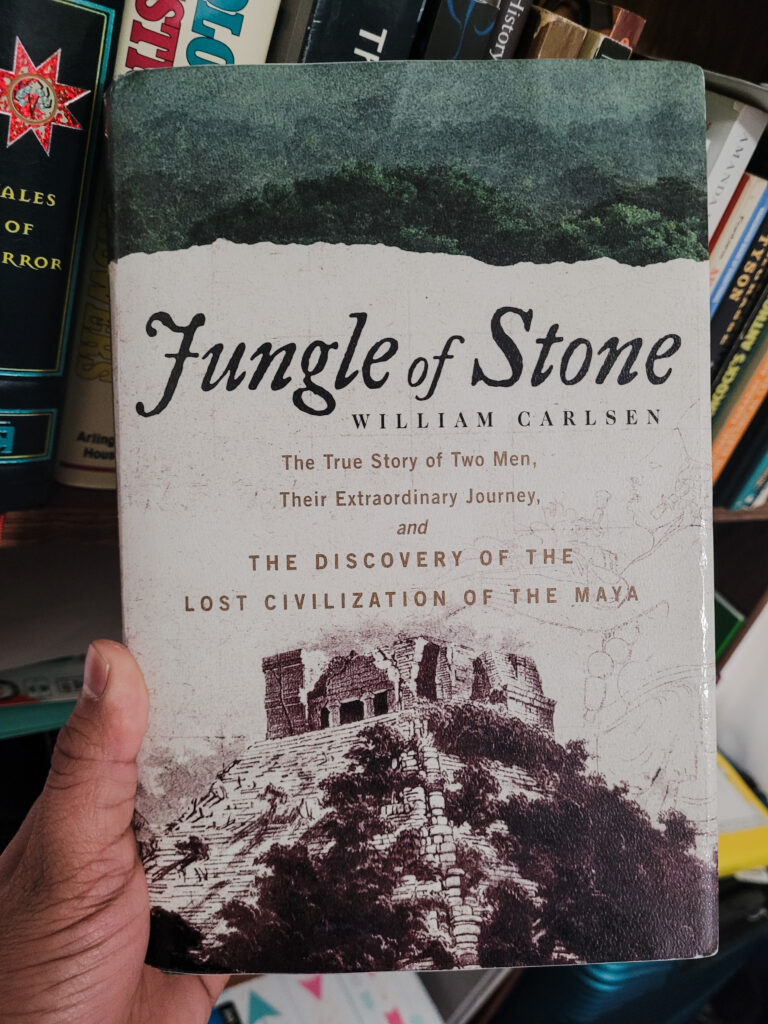 2. Author : William Carlsen
3. Genre : Fiction/ History
4. Book Post No.: 36
5. What is it about? : This book is mainly about two explorers John Lloyd Stephens and Frederick Catherwood. Together they made some of the most important discoveries of the 19th century and changed humankind's understanding of human history. Before Hiram Bingham discovered the site of the world famous Machu Pichu in 1911, these were the original discovers of lost worlds. Through multiple journeys deep into the jungles of of central America they uncovered forgotten sites of Mayan civilization. The author of this book recounts their journeys through great detail. There is a lot of context, political background and history added.
6: How I came to read it? : Continuing my current interest in the civilizations of Central and South America I picked this book as a follow-up to the last book I read, ''The Last Days of the Incas".
7: Did I like it? : Absolutely! Even though this is a non fiction book it reads like an exploration adventure thriller. There were sections where it took me back to my childhood days where I used to love reading exploration adventure novels by Sir Rider Haggard, Arthur Conan Doyle and others. King Solomon's Mines is one of my favorite novels ever and now 'Jungle of Stone' has become an adult fiction equivalent of it for me. The descriptions of the Mayan cities and structures is awe inducing and the illustrations by Catherwood are simply mind-blowing.
8: Positives : Action packed and amazing detail. This is an exciting read for history buffs as well as anyone interested in the lost world genre of novels even though this is work of non fiction.
9: Negatives if any: The book takes it time in arriving at the story the title talks about. In certain sections it feels like the author is deviating from the subject at hand. Granted that sometimes the context needs to be explained before moving on to the main part, but that part can be explained in a shorter way than devoting multiple pages to it. At times I was thinking please get on with it.
10: Any other personal notes, observations, fun facts etc : This is one of the best history books I have ever read!