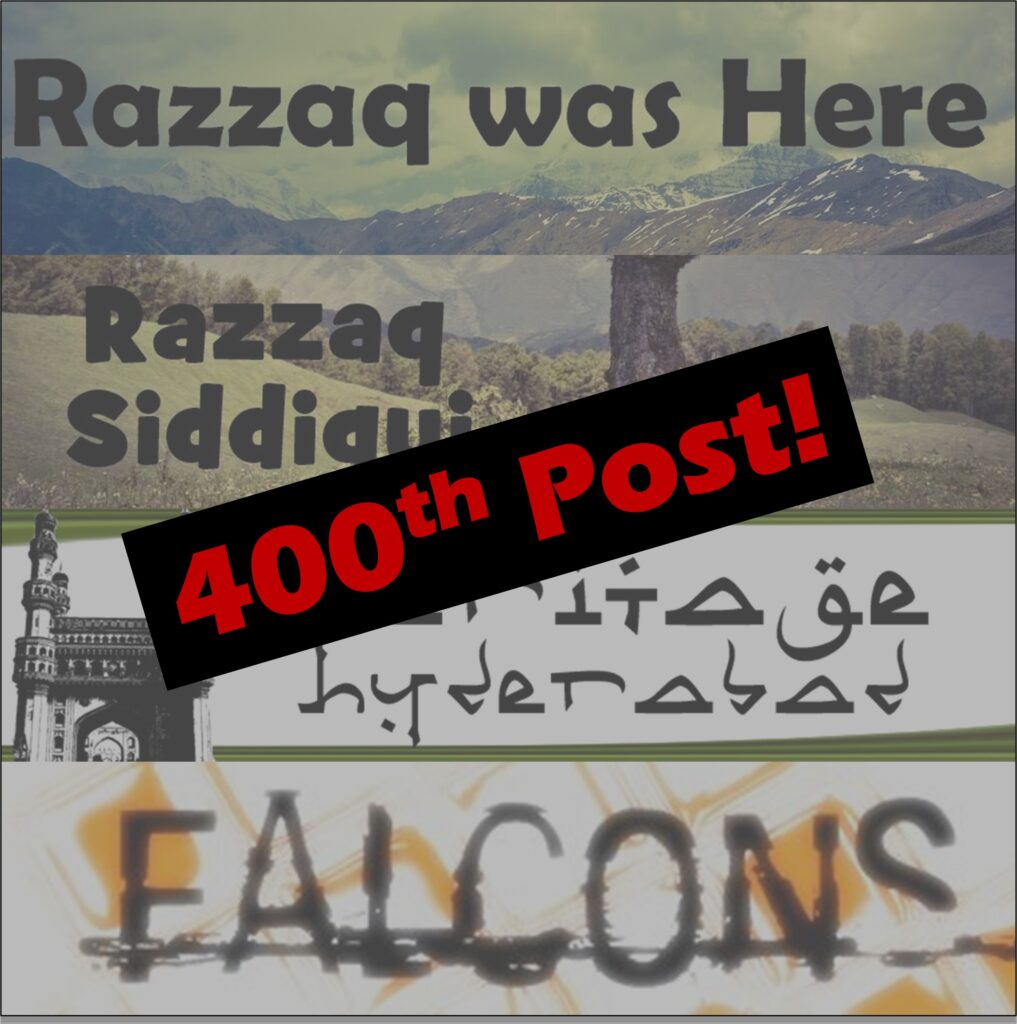 This is my 4ooth post since I started blogging back in 2008. 14 years, 4 different blogs and 399 posts later here I am. As you can see I am posting this on my brand new website. I created this website at the suggestion of my brother who said it would be better to create a common website and combine all my blogs into one place. I had 2 active blogs going on and 2 inactive ones. I combined all of them, imported all the old posts and created this new interface here.

Keeping aside other things there is absolutely one thing that I am extremely proud of. Since the time I started writing I have continued making posts till now. This whole journey has not been a one time fad or something temporary. I was consistent with my posts no matter what was happening in my life and there were some pretty serious ups and downs during the last 14 years. Its something that I will cling on to as a source of inspiration as I step in this new chapter of my blogging journey. Now, lets rewind a bit and revisit my 14 year journey of blogging.
The Story
Back in 2008 when I was in my 12th class/grade, one day my brother randomly explained the concept of a blog to me. I thought it was a nice idea to showcase the trips and activities me and my group of friends did. My primary intention at that time was to document our fun activities then and later in life we could come back and revisit the memories we were creating. And that's how my first blog called Falcons Club was created. This was based on the name of our group. We used to call ourselves Falcons Club. Still do.

Falcons Club
The first post on Falcons club was on June 28th 2008 where I just listed out the names of our group. The blog remained active till around 2013 from where it slowly declined. This was the year we all completed our Bachelors and were slowly drifting apart to different parts of India in search of jobs or higher studies. In those 5 years I devoted a lot of time writing the posts and publishing them on the blog.

Heritage Hyderabad
In the later part of 2008 I moved to Hyderabad to pursue my Bachelors. The city with its 400 year old history and its many historic places left me entranced. I started visiting the old buildings and thought to myself that I can write about these visits on my blog. Since blogs have a linear structure without the flexibility to maintain 2 distinct flows of posts I decided to create a separate blog for my Hyderabad related posts. And that is how Heritage Hyderabad was born. I had better success with this blog in terms of readers outside my circle. Some of the posts got shared with people with similar interests and I had good feedback coming back to me. One of the highlights of this time was, one time a historian from Iran reached out to me asking about a few things about a building in Hyderabad as they were doing some research into the connection of Hyderabad and Iran. I did whatever I could to help them. This blog stayed active from 2008 till 2012 when I had to move to a different part of India for post graduate studies and then later on job.


Razzaqwashere
During the 3rd year of my Bachelors I started traveling to other parts our state/province. For a third time I felt the need for another blog since travel posts did not fall into any of the 2 categories I had. So I created Razzaqwashere for this purpose. My first post for this blog was on 31 July 2011. Slowly my travels really took off with me covering almost half of all Indian states (15 out of 29). And with my travels this blog also consequently took off. This blog was the biggest success of mine so far. I got the most views, most visits, most comments and the farthest reach. The sections 'Highlights' and 'best feedback' further below in this post are mostly from the posts in Razzaqwashere blog. Started in 2011 I am still actively writing about my travels.
11 years. Around 100+ trips. 3 Himalayan Treks.
Bungee Jumping. Scuba Diving. River Rafting. Trekking. Zip Lining. Forts. Waterfalls. Obscure palaces. Jungles. Caves. Beaches. Mountains. Cities. Towns. Museums. Lakes. Rivers. Hill stations. Quirky railway stations. And many more.

Razzaqsiddiqui
Back in 2013 I started my 4th blog with the purpose of writing here all that I could not write in the other 3 blogs. I wrote on a lot of random topics during the last 9 years with the posts on books receiving the most interest from readers. This blog has been going strong and I plan to expand this aspect of my current website.
Some of the highlights of my Blogging journey so far:
1. I was featured in "The Ultimate List of the Top Travel Bloggers in India" by Holidify (2015)
https://www.holidify.com/pages/top-travel-bloggers-india-1683.html
2. Three of my photos were featured in the newspaper "Times of India" Raipur Edition. (2016)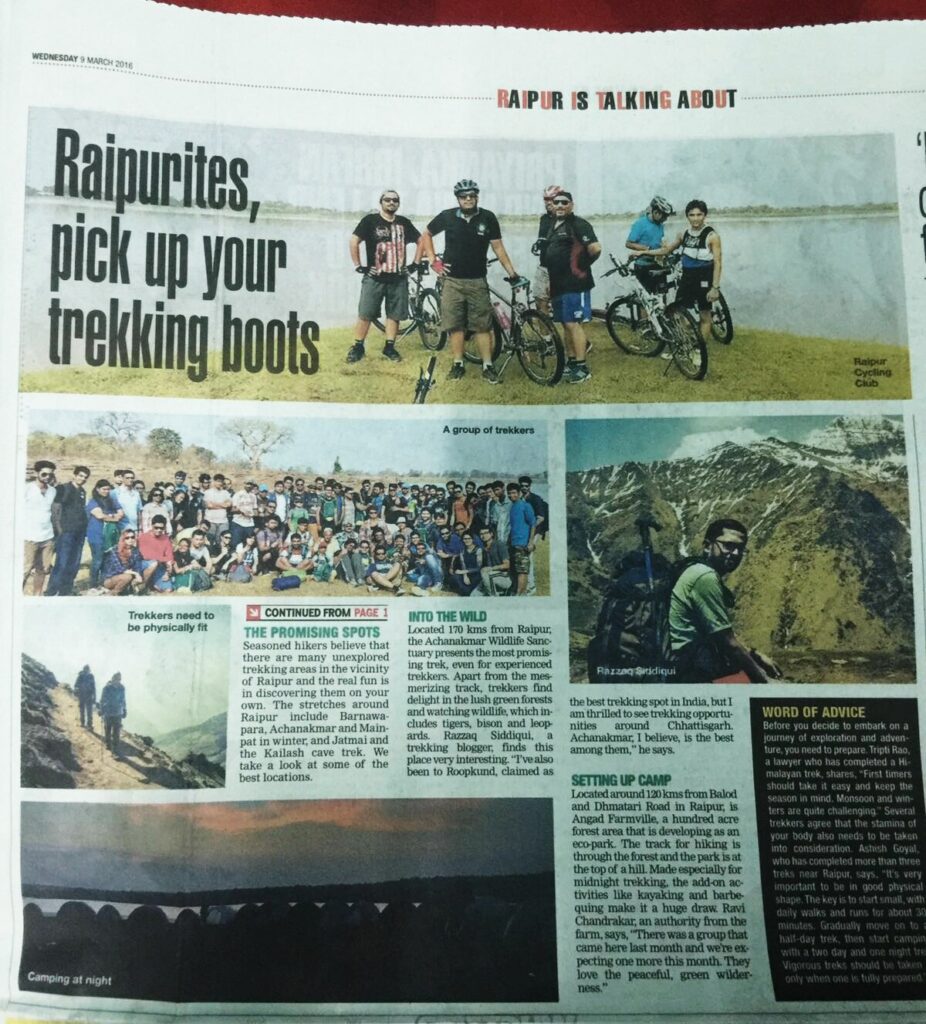 3. Lonely Planet Pathfinder
It was always my wish to be associated with Lonely Planet in someway.Finally, I became an official member of Lonely Planet's Pathfinder program for Bloggers. (2017)
4. Thomas Cook invited me to write an article for them. (2017)
https://blog.thomascook.in/5-reasons-why-druk-path-trek-in-bhutan-should-be-on-your-wish-list/?fbclid=IwAR3Ts9HcLt7ysHUn8ICcpk6C_GMzJnCsdiZzZNwOWpHfNoB4ziaJZ7LyAx0
5. My pic of a Heritage Building was featured in the newspaper "Hans India" (2018)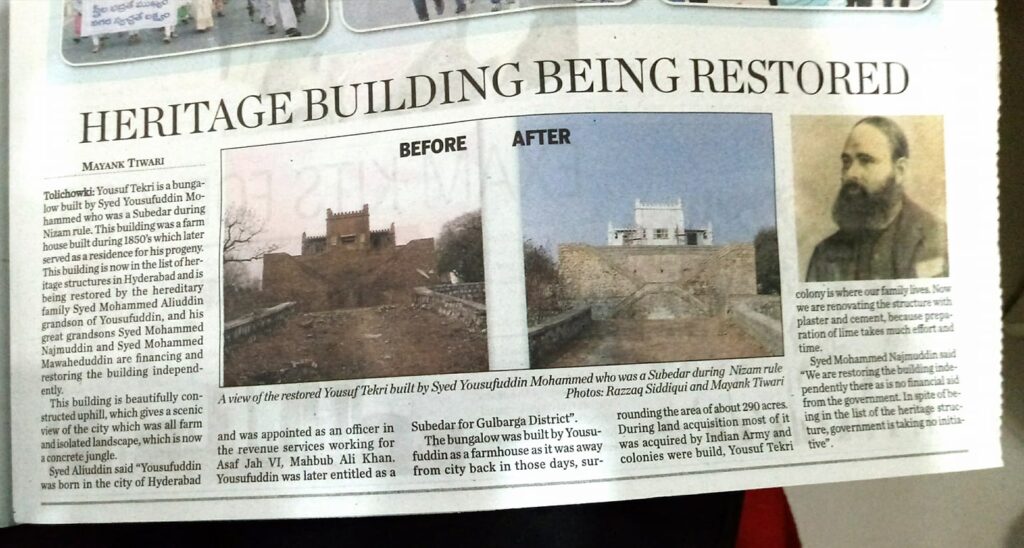 6. One of my blogs was featured in Blogadda's "Trekking destinations you need to explore!" (2015)
https://blog.blogadda.com/2015/07/29/trekking-and-hiking-places-in-india?fbclid=IwAR1sjcrX6n0RN8510FZteBoBZNgcUrAqK_3HXPboGcfCOZsdn8_nDFC7o78
7. I was featured in Touristlink's – "11 Travel Blogs You Should Follow – Round 5 " (2016)
https://www.touristlink.com/blog/11-travel-blogs-you-should-follow-round-5.html?fbclid=IwAR06Z3LxNjUb0Ds1SLbqX2WUc8da2nT2aU3PdMyMUjboQ8NqLuILe9o9Zdg
8. An interview with Bongyatra (2016)
https://bongyatra.com/interview-with-m-a-razzaq-siddiqui-from-razzwashere-blogspot-com
9. I was featured in this list by Raynatours.com – "Indian travel bloggers who inspire your wanderlust" (2016)
http://blog.raynatours.com/indian-travel-bloggers/?fbclid=IwAR3XmvDXOvtfEhFwl2h8ib0Lz3g01A6N_8TRPZ8lL5LXljfewegNGWVHUdc
10. One of my pics clicked during a trip got featured in ESPNCricinfo. (2013)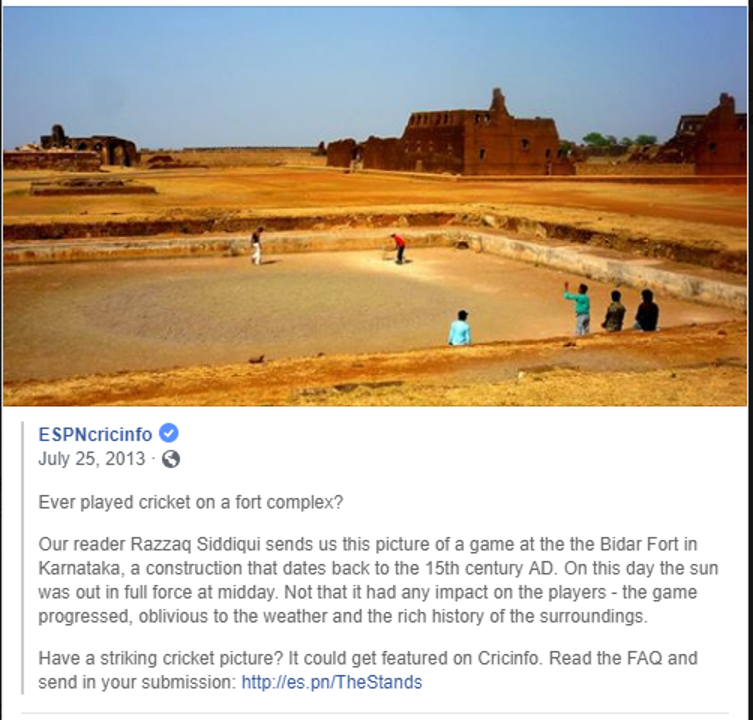 Some of the best feedback I got:
I get a lot of comments on the posts that I make on different platforms. Here I have compiled some of the best I have received.
1. I am happy the writer, definitely an enthusiast and not a time pass gentleman, has done a splendid job with refined touches of his own contribution, (like the info on Vagli). I am proud of you for your interest! May God bless you. (This was by famous Historian K R A Narsiah)
2. Very good report, I like the full details of bus times and journey lengths, etc. This information is very valuable to others.I looked at your "Razz was here" blog too, very interesting… It will give me some entertaining and fact filled reading.
I also liked one quote "You looked at the artifacts with interest, and the tourists with disgust…" Brilliant!
3. What a story! Loved reading it and the photos are a delight – like being there almost. We have lost so much of our precious history and culture chasing mirages. May be one day you can publish a book of such quaint places!

4. What a fantastic job this was, a great adventure and result. Its one of those lost treasures in rural India. Do record some detailed notes as to the location. It could be lost again otherwise. Thank you for an exceptional post..
5. Marvellous post, Razz. And I just discovered your blog* (what took me so long?)…. brilliant writing. Keep inspiring us with your travel stories
6. I'm overjoyed with the photolgue as no other post has such a detailed trek diary on Druk Path Trek.

7. absolutely hitched up. Travelogues are itself intriguing. And this is a trekkelogue, just cannot wait for it. Pour it Razzaq. You have a great way with your narrative.

8. good report and photographsi like your choice of words:
murmuring brooks,fallen trees,chattering monkeys,moss covered culverts and butterfly filled clearings
there is a poet in you
9. Wow razzaqfccf, this is an amazing write up of your scuba diving experience! Like Nick mentioned, I felt your excitement reading along and informative as I have never done one before. This will be my activity during my next visit to Pondy. Cheers!
10. The locations you go to and your trip reports are always unique. Excellent as usual!
11. Great thread ! I love the way you write
12. It's a great spirit as well as great idea!!!!!! Cheers razzaqfccf
13. I have never before read a description of what it is like for a novice to dive. I've never done it, I can't even swim. I really got the feeling and excitement of your adventure underwater. Thank you!

14. wow…..you surely have guts….lovely narration…
15. wow! you are inspired me from this article … now i am motivated to take a trip to the Himalayas Mountains next year… thanks and yeah! your articles and Pics were awesome.. thanks
My Top 5 Favorite Posts
Though I enjoyed writing each and every post I have a special liking for the following 3 posts.
1. Roopkund Trek,Uttarakhand. Day 4.Summit Day
https://razzaqmohammed.com/roopkund-trekuttarakhand-day-4-summit-day-pathalnachni-to-roopkund-lake/
2. Canada on rails. 4 days train trip from Toronto to Vancouver. Day 4 and Day 5
https://razzaqmohammed.com/canada-on-rails-4-days-train-trip-from-toronto-to-vancouver-day-4-and-day-5/
3. A Student's initial days and first impressions of Vancouver, Canada.
https://razzaqmohammed.com/a-students-initial-days-and-first-impressions-of-vancouver-canada/
3. Prologue.Trekking Trip to Bhutan
https://razzaqmohammed.com/prologue-trekking-trip-to-bhutan/
3. Ib, Orissa. The shortest Railway Station name in India.
https://razzaqmohammed.com/iborissa-the-shortest-railway-station-name-in-india/
Going forward
With this new website it will be easier for my readers to search for all my posts in one common platform. There is a search box to further assist in this. I plan to continue my travel posts and also increase the other category posts significantly. I also plan to focus more on the 'Energy' posts. There is a Feedback form on the homepage. Please fill it up if you have any specific feedback.
Here's to more posts! Keep the feedback, suggestions, comments, shares and follows coming!